Category Archives:
Guest Vlogs and Blogs
Updates from our Skype writing group, The Dead Pete Society
Well I asked, and Chaos accepted! A little video from Chaos, with an opening clip from Sam to introduce our friend 😀 Chaos tells us of her stories and characters. She even does her own illustrations 😉
F.R. Donaldson lives in scenic Scotland. She is the author of the psychological sci-fi MALEVOLENCE
Well. I'm not going to lie, guys. This video ended up being way longer than we intended. BUT. It's REALLY funny. So I'll set it up in such a way that you can skip to where you want to go (like chapters). Each topic is about 8 minutes. 🙂
Introduction (0:00-4:08)
Getting Into Character (4:09-10:10)
Animals as Characters (10:11-18:39)
Being Evil (18:40-26:53)
Fight Scenes (26:54-35:00)
Personal Effects (35:01-42:15)
Antagonists (42:16-51:02)
Closing Statements (51:03-end)
I have a special surprise for you today! Jori came over for a weekend. I had most of it off (1pm on Friday through Monday morning!), so I made it my goal to completely finish this revision by work on Monday. Spoiler alert: I didn't manage to do it. I'm partway through Chapter 12 (of 17). The good news is that I'm at 133K. THIS IS TOTALLY HAPPENING!
Also, if you ever get that random urge to keyboard smash while wearing a stupid hat… don't. I nearly lost 4K of story today by being an idiot. I was like, "How crazy would I look if I just went nuts on this keyboard right now wearing this goofy ass hat?" Visual aid:
Jori and I laughed our asses off this past weekend. And, since she was still here and I needed to make a video for you, I invited her to join me for it. Hilarity ensued. Enjoy the video!
Jori on Twitter: @jor_jor51
#ZappaTheDipshitDog
She ate its face. #ZappaTheDipshitDog http://t.co/3HmLSwHfMb—
Samantha K Balk (@SKBalk) January 11, 2015
That Etsy shop (If Heike DID cross stitch, she'd totally do this): https://www.etsy.com/shop/aliciawatkins
An example: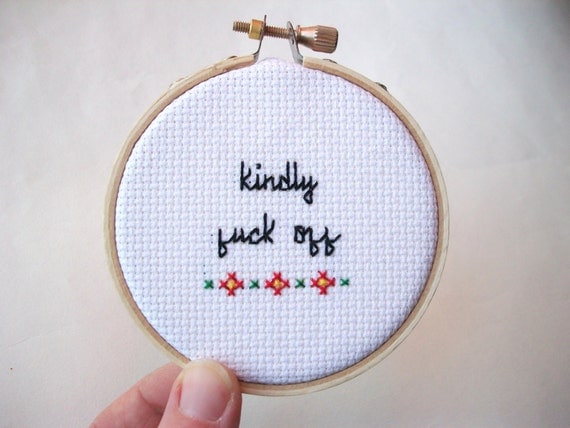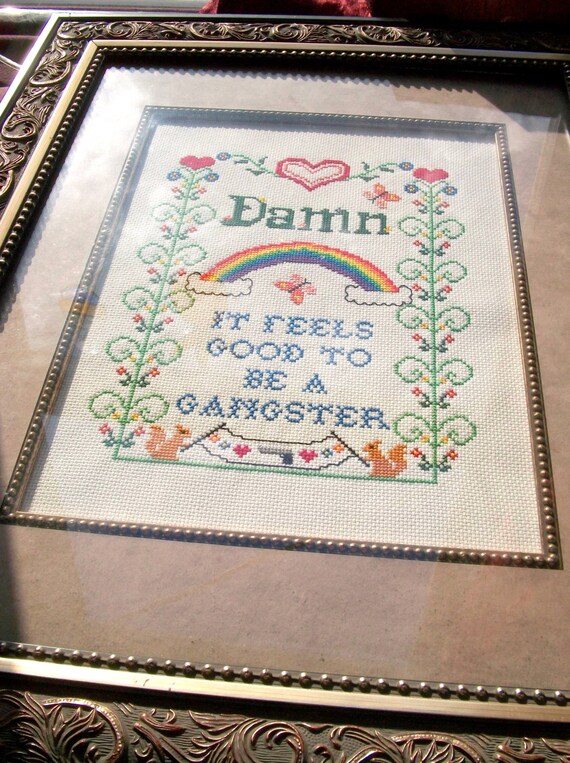 Posted in Guest Vlogs and Blogs, Information, Sam Updates, The Dead Pete Society, Updates
Tags: Achillea, alcohol, author, Beta, blog, book, books, Bragging, caffeine, CaptainWhiskey, character, Characterization, coffee, critique, cross stitching, Dangerous Sexiness, deer, Dog, dork, eddy, Editing, etsy, excited, facebook, fanfiction, fangirl, femslash, fool, Heike, HeikeForPresident, high five, laughter, LGBTQ, novels, Publishing, puppy, revising, smut, Tahrindale, totes mcgoats, Twitter, vlog, weekend, words, writer, writing, ywriter, ZappaTheDipshitDog, zombie
Today's Dead Pete Society guest blog features my dear friend Jori. Jori and I used to beat the snot out of each other in softball when we were in high school, then found out we went to the same college, too. We actually didn't become CLOSE friends until I randomly called her from my contacts list on my cell phone because I was driving and too sleepy and was looking for the first interesting person to talk to in my list.
She was the first one worth talking to that answered, and the rest is pretty much history. 🙂
I'll throw in a bonus video for you, too. Today I was suffering major writer's block for most of the day. (more on that tomorrow, actually). Some songs just get me really pumped, so I was listening to this one and managed to knock out about 4,000 words or so because of it. I was really getting my jam on, so I thought I'd record what it looks like when I'm REALLY "in the zone." I tend to type pretty fast, and if you pay close attention, at some points I am actually thwacking keys to the beat. (It might help if you knew the song… it's called "Silhouette" by KANA-BOON, and it's the 16th opening song for Naruto Shippuden). I asked Kevin from the Dead Pete Society if I should redo it with the music, and he said that it was funnier this way, so I left it out. Heads up… the key banging is pretty loud! 😀
Posted in Guest Vlogs and Blogs, The Dead Pete Society
Tags: author, books, dork, fandom, guest vlog, NaNoWriMo, novels, Sam, stories, vlog, Winning, writing
Next in our series of The Dead Pete Society: Katie!!!
As for an update from me… still keeping up with my daily goal. More focused today than yesterday (HA! Don't get me started on that nonsense! I am crazy and I know it!). Pulled an all nighter and wrote a little while I had the oil in my car changed as well. Currently have 2405 for the day (62K for NaNo) and projecting something like 4-6K by the end of the night.
I'm experiencing Plot Twists Galore. It seems that every day something surprising happens in my story. I thought one of my characters was a nice guy but it turns out he's kind of a jerk. Found out one of my characters is sweeter than he/she seems, and one of my operatives has a berserker mode of sorts.
My story is out of order… I went back and beefed up some chapters and I'm pretty sure that I wrote in some scenes with characters that hadn't been introduced yet. I'll fix that later, though. I'm not concerned.
Things have gotten very fun and exciting.
Also, as of yesterday, my story crossed over 120K words total. That makes this the longest story I've ever written, and it's still not quite half done yet!
No video from me today. Katie's was awesome enough, right?
Also, in case you didn't know, the song she was singing is from the game Portal and is entitled "Still Alive."
Til tomorrow!
Posted in Guest Vlogs and Blogs, Sam Updates, The Dead Pete Society
Tags: author, books, dork, fandom, guest vlog, lols, NaNoWriMo, stories, vlog
As you know, our Skype group has been dubbed The Dead Pete Society, which was named after a random character that had all of three lines in Frankeh's novel. We thought it'd be fun to introduce the people that are helping us stay motivated, and some of them have been good enough sports to share their faces on our Blog. This is Kevin. He's our token male presence, as he is the only person in our room of nine people that isn't a chick.
He has promised that there will never again be another video, so enjoy all of his 1:24. (AHAHAHAHAHA).
Also, as for an update from me… the other day I reached 50K on NaNoWriMo so I've been a bit of a cocky asshole about it. I've been reaching my daily goals, but I've been hanging out on the "I've reached 50K Now What?" boards on NaNo and chatting with other overachievers. Also, I sit down and drink my pots of coffee, and then I just end up doing random shit like this instead of writing:
Enjoy it, as it is an exclusive video just for this blog. I've left it unlisted. For obvious reasons. Because I'm a complete dork and had a rare moment of bravery where I let you watch me be a bit of my crazy uncensored self.
Til next time, followers.
And if me jamming to Macklemore doesn't earn us some comments, I give up up humanity. Fo' realz.
Posted in Guest Vlogs and Blogs, Sam Updates, The Dead Pete Society
Tags: author, books, Bragging, dork, fool, guest vlog, lols, Macklemore, NaNoWriMo, novels, Sam, stories, vlog, Winning, writing
As promised, here are two vlogs from one of the Dead Pete Society. Introducing Mandi, who is handwriting most of her work, then typing it up for word count when she ca. She is doing a great job and is currently a fifth of the way towards her NaNoWriMo goal! She also remembers what NaNoWriMo means, which is far better than I did on my first vlog XD